Incosmetics 2019 - Successful edition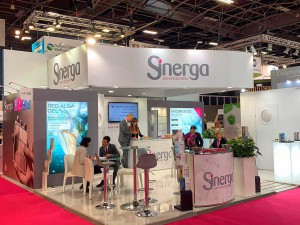 Also this year Incosmetics has been a successful edition for Sinerga: many visitors, clients and partners stopped by at our booth to strengthen the relationship and get to know our hair care family!
NEW: Hair App: 
pure powder based on a combination of hair-like amino acids which straight the hair up to 48 hours in a natural way, while at the same time restoring, protecting from heat damages and reinforcing it. 


an ivory powder derived from Pisum Sativum with a 100% European plant origin. As Pea.Protein exhibits an amino acid spectrum similar to that of keratin, it performs a high restructuring and nourishing activity, increasing also hair resistance to breakage.
aqueous combination of sulfureted amino acid derivatives salified with lysine. Thanks to its typical sulfur bonds, it is recommended in the formulation of antidandruff and sebum-normalizing products, addressing both the hair, the scalp and skin.
Vegetable derived lipoproteic surfactant with remarkable anti-static, conditioning and anti-frizzy efficacy, able to increase hair gloss and resistance to breakage.