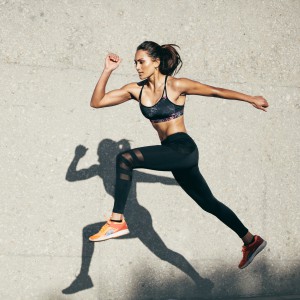 A new wave of female role models who are challenging the very nature of female celebrity: girls are now less willing to emulate footballer's wives or reality show's protagonists, but look for powerful, successful, talented and strong-willed women, professionals using their power and celebrity to promote campaigns, charity, social messages.
At this regard, female athletes have gained more and more appeal and attention: although they still face many taboos and critics, they are looked up to as they represent how hard work, sacrifices and strong-will can lead to extraordinary success.
This shift in female role models also involves a change in the imagery of women's body: while fashion is still anchored to the idea of excessively thins or stereotyped figures, society is looking elsewhere for a new definition of healthy body: a tonic, shaped and strong body is the ideal achievement and, as a result, body products have seen their sales and launches increased (+15% new launches in 2020 compared to 2018 - Mintel GNPD data).
Covid-19 pandemic also accelerated consumers' interest for body products: with the majority of countries experiencing forms of quarantine or restrictions to free movements (with more or less degree), people have seen a huge increase in their time spent at home, leading to a boom of download of home-exercise apps and tutorials as people look to maintain physical health as a counterpart with the sanitary emergency. 
Even when it comes to communication, the market is quickly evolving: unrealistic messages and testimonials have generated an increased mistrust towards traditional communication over the last years. As a result, people are now more willing to rely on blogs or social media, as they perceived them as more trustworthy and honest, whether it involves normal people or celebrities (necessity to avoid the ad perception among viewers and instead confer the "friend's advice" concept). 
As brands become wellness coach, they must provide not only the products, but real body-care beauty rituals, including:
Diet
Exercises
Education
Emotional practices (yoga, meditation).

While they help the customer to live a more engaged and multi-step experience, they also provide emotional support to women to overcome the burdens linked to this skin disease. In this way they increase their trust in the brand, taking on the "expert role" as the main source of reliable information and also promoting an important messaging of self-acceptation.
Sinerga offers active ingredients able to enhance the physical activity results:
Acticolina LV: active ingredient with a high efficacy in reducing localized fat and counteracting the blemishes of cellulite.
It's composed of powerful cellular metabolism enhancers (Lysine and Valine) and Glycerophosphocholine, a source of choline, able to work in synergy to improve lipolysis and stimulate cutaneous metabolism, reducing the intracellular lipid contents with positive effects on skin tone, thighs circumference and orange peel effect.
X-Solve: active ingredient with an encapsulated technology that guarantee a better delivery of the active compound. Thanks to its vasoactive capabilities, it improves blood flow in superficial vessels, promoting the microcirculation in disordered skins (cellulitis, local fat accumulation, heavy legs). It also fosters actin production in fibroblasts, suggesting a role in dermal remodelling, and prevents local inflammations at prostaglandin level by preventing the formation of arachidonic acid.